Model-Train-Layouts.NET Secure Ordering Online

First, let me thank you for considering an investment in Model Train Layouts Package.
If you've never ordered anything online before, let me explain a few things to you. ClickBank allows you to pay with credit cards or by Paypal.
Security. When you click the order page, you will go to a secure order form at ClickBank. It looks like this: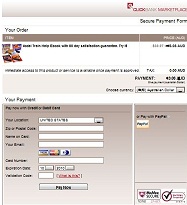 ClickBank has been in business since 1997 and is a service of Keynetics Inc, a Delaware corporation with headquarters in Boise, Idaho. Here is their address:
Keynetics Inc.
915 W. Jefferson St.
Boise ID, 83702 USA
Phone: 208-345-4245
Fax: 208-342-0078
ClickBank provides credit card clearing and payment services for tens of thousands of merchants WORLDWIDE all over the internet.


You will connect to ClickBank through a secure server, which makes it virtually impossible for a hacker to intercept your information. Once you enter your payment and credit card information, your credit card is validated and you will be taken to a web page which has the Model Train Help download information. You can then easily click on the file and download it to your own computer.
ClickBank does not store your credit card number and I never even see it, I am only advised that your payment cleared. Once it does clear, your number vanishes.
So as you can see, ordering online is extremely safe. Far safer, I'd say, than handing your credit card to some waiter or gas station attendant!


As already mentioned, Clickbank allows you to pay by PayPal.
PayPal was founded in 1998 and acquired by eBay in 2002. Paypal is located in San Jose, California, USA.
PayPal has quickly become a global leader in online payment solutions with more than 153 million accounts worldwide. Paypal is available in 190 markets and 17 currencies around the world. PayPal enables global ecommerce by making payments possible across different locations, currencies, and languages.
PayPal has received more than 20 awards for excellence from the internet industry and the business community including the 2006 Webby Award for Best Financial Services Site and the 2006 Webby People's Voice Award for Best Financial Services Site.
About Refunds
I want to be very clear about how you can get a refund, as some shady companies may make a big deal of their guarantee, but then bury the info on how to take advantage of it.
ClickBank is empowered to issue you a refund. Those are part of the terms for any company to use the ClickBank secure processor.
You request a refund from Clickbank (the payment processor) by going to:
www.clickbank.com/csinquiry.html
Clickbank will email you a receipt after your purchase. This receipt contains details on requesting support and a refund.
So now you know it is safe and exactly how ordering online works. Click below to get the information that can help you build and enjoy the perfect model train layout.
Click Here To Order And SAVE 41%