Read How You Can Download Both And
SAVE A MASSIVE 41% TODAY!
Scenery & Layout Construction Ideas

In this PDF ebook you'll learn all about building a layout, including how to design a track plan to best use the space, building low relief and below track level scenery, and inexpensive industries to build. There are even two model train layout building tutorials taking you step by step through the construction of a small layout and a micro layout.

$39.95 (see below for special offer)
303 Model Railroading Answers

In this PDF ebook experienced model railroaders share theiranswers on almost everything from wiring model train layouts, DCC conversion, train maintenance, weathering techniques, layout design, scratch built construction and more. REAL people giveuncomplicated REAL answers to everything you ever wanted explained.

This is the perfect easy reference manual to have at your fingertips beside your train layout!

$39.95 (see below for special offer)
You can download these exclusive "PRIVATE" PDF e-books and mp4 videos directly to your computer. They are not available in bookstores, in hard copy, or anywhere else on the internet. No waiting! No postage or handling to pay! Instant Access!

Download both ebooks TODAY $79.90
for ONLY $47 (SAVE 41%)

Plus you'll also get

3 FREE Bonus Gifts

Manual:

Confessions Of A Mobile Layout Builder

Manual:

110 Handy Model Railroading Tips & Clever Ideas

Videos:

4 Model railroading Videos
Download Both ebooks TODAY $79.90 For ONLY $47 (SAVE 41%)...
And You'll Qualify For These 3 FREE BONUS GIFTS (Worth $91.00):
FREE BONUS #1 (Worth $27.00)
Confessions Of A Mobile Layout Builder (PDF)

This manual explains exactly how to build a mobile model train layout, so you don't have to start again if you move house. Read how a mobile train layout can save you money and take up less space.

You'll really enjoy this! Photos, tips and layout plan included.

You get this report FREE today, even though it sells for $27.00 everyday here.

FREE BONUS #2 (Worth $37.00)
110 Handy Model Railroading Tips & Clever Ideas (PDF)

This 44 page manual is packed with 100 of best model railroad ideas and model train tips on a range of topics including: planning a layout, constructing in stages, shelf layouts, making ground cover, including people and animals, making tunnels look real, freight train weathering, scratch building, broken couplers, led lights, train lubrication, track creep and misalignment, locomotive decoders, cleaning dirty track, model train parts, flywheels, buying a locomotive, point-to-point layouts, out-and-home layouts, scale distances on model train layouts, cutting flexible track... and MUCH MORE!

You get this manual FREE today, even though it sells for $37.00 everyday here.

FREE BONUS #3 (Worth $27.00)
4 Model Railroading Videos (mp4)

Video #1: See how a micro HO Model Train Layout can be built in a 2 foot x 1 foot suitcase. Take a tour and watch this micro layout in action. Absolutely fascinating to watch!

Video #2, #3, #4: Operating a small layout. Featuring "Illinook", a 4 foot x 1.5 foot model train layout built as a switching puzzle. Watch the step-by-step operation of this layout with its two spurs serving two different industries. A treat to watch!

You get these 4 videos FREE today, even though they sell for $27.00 everyday here.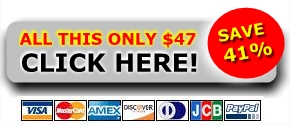 "My eyes were popping out of my head with the HO layout in the suitcase video. Really clever with so much fitted in a small space. It looks fun to operate. I'll be giving it a go for sure. Thanks for including it."
Peter R, J'ville, USA
"AMAZING! Tons of great ideas for my layout. I liked the wiring and DCC tips and the part on scenery and track planning. Thanks a billion!!"
Phil M, Sheff, UK
"I wasn't expecting so much stuff for my money. I've only been through bout half and learnt so much already. I have been in the hobby since 1972."
Lance S, SA
My Personal 60 Day 100% Satisfaction Guarantee!
I have no doubt, that when you download your model railroading package, you will be absolutely thrilled with your purchase. I know, because I have thousands of happy customers worldwide and this package has been created around the feedback provided.

So, I know you'll have everything you need to build an amazing model railroad layout... in the space you have available and within your budget.
I believe in giving customers value for money. So, if you feel the information won't help you, just let me know within 60 Days and I'll buy it back from you for every cent you paid.
If you don't honestly feel you could write to me saying how good the package is; I want to refund you in full.
Truth is; I have thousands of satisfied customers WORLDWIDE and a reputation to protect. So, if you genuinely believe the information is not worth the price you paid, I'll gladly arrange you a refund.
That's 60 days to put me to the test - all the risk is on me!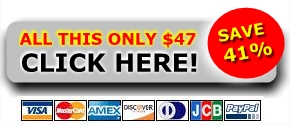 Internet Security Note: The secure order form on the next page will look like this.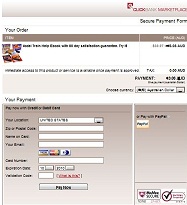 If you are new to ordering products online click here to get more information.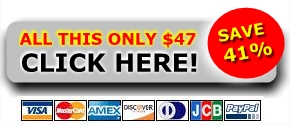 All model train layouts products advertised here are delivered by download. Pictures indicative only.
Complete Package ONLY $47 SAVE 41%
Model Train Scenery Ideas $39.95 303 Model Railroading Answers $39.95
ClickBank is a registered trademark of Keynetics Inc., a Delaware corporation. ModelTrainLayouts.net is not affiliated with Keynetics Inc. in any way, nor does Keynetics Inc. sponsor or approve any ModelTrainLayouts.net product. Keynetics Inc. expresses no opinion as to the correctness of any of the statements made by ModelTrainLayouts.net in the materials on this web site.